We proclaim Him, admonishing every man and teaching every man with all wisdom, that we may present every man complete in Christ. And for this purpose also I labor, striving according to His power, which mightily works within me. – Col 1:28-29
It's truly a joy to interact with deaf Africans who have a robust understanding of the word of God. Seeing them take on a leadership role and guide others in a spirit of humility and grace is truly a beautiful thing. But regrettably, it's not a very common thing. This is our ultimate goal and passion: to prepare the deaf for spiritual leadership roles within their communities, and equip them to make disciples for our Lord and Savior, Jesus Christ.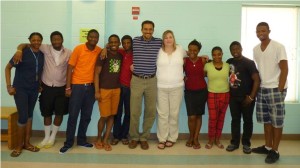 Meeting with deaf Nigerians
enrolled in a Texas university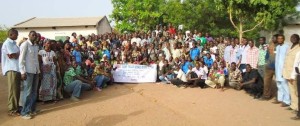 18th Annual Chad Bible Camp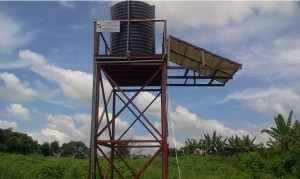 Donated solar-powered well &
water storage tank in Nigeria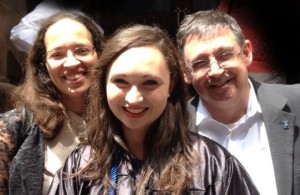 First Foster grandchild graduates from college
Nigeria
Every year, our deaf high-school students in Ibadan participate in the West African Examinations Council (WAEC) and the National Examinations Council (NECO). Students with high scores are able to proceed to universities in Nigeria and beyond. Recently, a few Nigerians have been able to enroll at SouthWest Collegiate Institute for the Deaf (SWCID) in Big Spring, Texas. As it turns out, SWCID is located about 4 hours west of our CMD headquarters in Texas! Last week, my wife and I drove there to visit the deaf Nigerians. It was a good time of fellowship and encouragement. Pray that more graduates may be able to attend SWCID in the future.
Construction of the new campus steadily inches forward. We've received a grant for 100,000 Euros from Siegworks Construction. Praise God! Another fantasic blessing came from a supporter who installed a solar-powered well. Having water on site will help greatly as construction continues at the new the campus.
After many years of service and numerous repairs, our center's electric generator is now in dire need of replacement. The Commissioner's for Women's Affairs and Social Welfare has kindly donated a 6500W generator. It's not powerful enough to run the entire facility, but we're thankful that it helps take a load off the aging primary generator.
Chad
Over 220 people attended the 18th Annual Easter Camp for the Deaf. Most attendees had to travel to get to the city of Doba. Although the facility had a shortage of utensils and ran out of water on the 1st day, God showed His loving kindness by having local churches bring in water and utensils to meet the needs of the campers. We praise God that 19 people made a commitment to follow Christ. Pray that they will continue in discipleship.
When some village officials heard about the camp, they brought in 50 deaf people from outlying villages in the region. These deaf villagers had never received a formal education, and were stunned to see so many people, deaf like themselves, yet with advanced education and the ability to read, write and communicate about things they read in a Book. Pray that these deaf villagers will be able to attend a proper deaf school and learn to read, write – and hear the Gospel of Jesus Christ!
As in Nigeria, our Chad school has recently received financial support from some unlikely sources. The US Embassy visited our school in the capital city of N'Djamena one week before the Easter camp, and promised to help with the reconstruction of some deteriorated buildings. Most of the buildings at our center are made of mud-brick (as are most buildings in that part of town). The embassy delegates want to replace four of the deteriorated mud buildings with concrete buildings. Pray that they will follow through on their commitment when construction gets underway this August. While the embassy will be carrying the majority of the costs, we still need to raise several thousand dollars to complete the projects. Pray with us that the Lord will provide.
Democratic Republic of Congo
Staffing at our annual Congo Bible Conference will be interesting this year: A team of 15 people from Michigan – most of whom have never been to Africa – will be traveling in the Kivu region (eastern DR Congo) to help with two hearing conferences, as well as our deaf conference in Bukavu. There is also a possibility that a deaf American from Colorado will join our team. This year, we're going through the book of Colossians, and placing more emphasis on small-group discussions to help the deaf assimilate the material we'll be teaching. We want to capitalize on the additional help by increasing our budget so more deaf Congolese can afford to come. Pray that the Lord will provide mightily, as local transportation is the largest line-item in our conference budget. Pray also for the Michigan team: Traveling in the DR Congo is not exactly safe, and certainly not for the faint of heart.
Our school in Uvira has had some changes in staffing. Director Pililo Amani has added a young deaf high-schooler as a teacher for the primary classes, and so far, he's doing well. They still have a need for sewing machines to teach tailoring and to make uniforms. Pray that God will meet this need.
Our school in Likasi, led by Director Mwamba Pascal, has a pressing need for a computer. We have several laptops on hand that I will be brining to the DR Congo this summer, but because our Likasi school is so remote, it's far cheaper for our director to travel several hours south to Zambia and buy a computer there. Our missionary friend in Likasi, Ruth Willenbrecht, has helped locate a good deal. Pray that God will meet this need.
Home
Mother Berta is staying with us this week while my sister, Faith, is in New York to attend the graduation of her oldest daughter. Alessandra is the first of the Foster grandchildren to graduate from college. Following hot on her heels is our oldest daughter [name withheld]. Lord willing, she will be going overseas next year to work full-time with an evangelical ministry doing outreach to Muslims. Pray for these two as they strike out on their own, that God will continue to bless them and keep them and make His face to shine upon them, and give them peace.
In Him,
Tim Foster