Dear CMD Partners!
The refreshing green of Spring is certainly making its mark on the landscape of our hearts and the work the Lord has set before our hands!
Democratic Republic of Congo
Join with us in praising the Lord for the re-opening of a school for the deaf in the city of Gemena, located in the NW corner of the country. A few years ago we had to close the school due to a lack of healthy leadership. The local evangelical church that was associated with the school has redoubled its efforts and put in place two men of excellent character with a passion for the Word of God and the deaf. We've been thrilled with the response from the church and are thanking the Lord that the school hit the ground running with over 30 children. Their resources are very meager as they are meeting in the church, but our Lord is faithful, providing these children with the means to learn more about their Savior!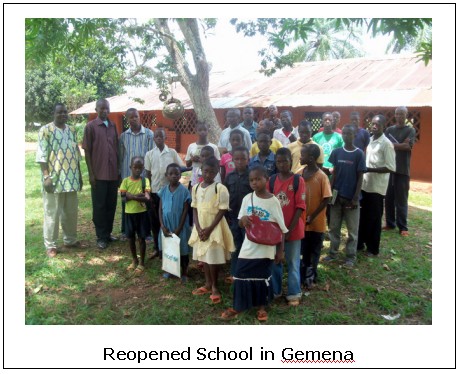 On the opposite side of the country, in the city of Uvira, plans are underway to expand our deaf school to offer secondary classes (grades 6-12) this fall. The deaf students that have been made aware of the new addition are ecstatic beyond belief as it will be the only secondary school for the deaf in the region.
Currently, deaf students wanting more than an elementary education have to struggle through a hearing public high-school where no one knows sign-language, and a translator is not provided for them. They usually end up paying higher tuition than their hearing counterparts, and frequently have to pay for additional tutoring on top of that. For this reason, many deaf have given up trying to further their education, and precious few have made it past the equivalent of 9th grade. Starting this fall, Lord Willing, all that will change, as deaf students will finally have an opportunity to take secondary classes in an environment suited to their handicap. It will be a welcome answer to our long prayers. There are a few obstacles left to resolve before we can press ahead (Bible training for the staff, additional staffing, school materials, etc), so pray with us that the Lord will open these doors so that the deaf in the Eastern Congo can further their education.
Chad
Director Yves Beosso is running full steam with his 15th Annual Easter Camp. The theme of the retreat is "The Armor of God". The teaching will be shared by several men who have been groomed for leadership and have spent several months in preparing for all aspects of the camp: the logistics of the camp scheduling, transportation, food and lodging, as well as the sermon material and group discussion assignments. The 14-page syllabus they prepared for the camp is a shining testament not only to God's use of Yves' training, but also to their diligence and passion for teaching the Word of God in a structured, thorough and clear fashion. We're excited for what the Lord will do at the camp and in the coming years as these young leaders take on more responsibilities and challenges. Pray with us that the camp will be an overwhelming success, that the Holy Spirit will invigorate attendees to be well-studied and well-equipped with the Word of God, and that Christ will be honored in their fellowship and encouragement for one another.
Meanwhile, back at the day-school in the city of Walia, Director Beosso reports that classes are moving along well and students are doing well in their studies. In the torrential rains and floodwaters that wiped out large portions of the city several months ago, the school's toilet facilities were destroyed. We're thankful to the Lord for providing a grant enabling them to rebuild this very necessary facility!
Nigeria
Director Emmanuel Ilabor is finishing up a trip to the States where he was able to present the work of CMD's center in Nigeria to several churches and deaf schools.
The 41st National Deaf Easter Camp in Nigeria is currently underway, with an anticipated 700 attendees from all over Nigeria. The high participation is due to the planting of 25 churches for the deaf all over the country of Nigeria – churches that sprang from the two churches planted by Andrew Foster back in the '60s. We're thrilled to hear that these churches are self-governing and growing strongly in the Lord! Last year, 34 people were baptized at the deaf camp. We're eagerly looking to see how many the Lord will draw to Himself this year through the Easter Camp. What a thrill it is to see such a continual reaping of this very white field of harvest! Pray with us that the Lord will also grant a bountiful harvest this camp season!
At Home
Thank you for your continued prayer regarding Berta's health. She rests comfortably at her daughter's home and finds something praiseworthy in every day. Her ability to communicate her thoughts continues to slowly deteriorate, but that doesn't stop her from insisting that I keep her updated with every last detail of our work. Bless her heart – she laughs at me every time I try to remind her that she's retired!
Please remember the Crumley family in your prayers. Gelnn Crumley went home to be with the Lord in February. As a long-term missionary in the Congo, he was a faithful friend to Andrew Foster and to CMD. We've been blessed by his service as our board chairman for many years and he will be greatly missed by his wife, 6 children, 22 grandchildren, 30 great-grandchildren and his many spiritual children in the darkest jungles of Africa. What an amazing legacy! His daughter's family (Kathy Lindquist) works closely with us in the Eastern Congo.
Sheryl and I are looking forward to returning to Africa in August & September. We had hoped to be able to catch part of Emmanuel's annual leadership training that he conducts in Nigeria the first week of August, but it looks like that door is closed. Pray with us that we'll still be able to visit our schools in Chad, Nigeria and Likasi (southern part of the Congo), and help lead a camp in Goma (north east Congo with Tom and Kathy Lindquist).
Indeed, your continued prayers are coveted.
In Him,
Tim Foster