"Whoever calls on the name of the Lord
shall be saved!" – Joel 2:32

But how can deaf people call on Him for salvation if no one teaches them sign language so they can hear, understand and believe the Word of God?
Christian Mission for the Deaf is a non-profit organization focusing on meeting the spiritual needs of deaf Africans. Deaf people face many barriers to "hearing" the Word of God. Illiteracy, isolation and geographical distance pose communication problems that are not easily overcome. Furthermore, the very nature of deafness complicates the problem since it is not an externally visible trait and stays out of sight for most mission organizations.
Since its founding by Andrew Foster in 1956, CMD's objectives have been to organize, operate, promote and encourage Gospel and education work among the deaf of Africa. Training local African Christian workers and leaders has been an instrumental method of our outreach.
What are our methods?
Language is the method by which any two people must communicate. When Andrew Foster first arrived in Africa in 1957, there were no schools for the deaf in all of Africa, except for a few in South Africa and Egypt. Consequently, much of CMD's work in the first 30 years focused on opening schools for the deaf. Once the basics of communication and education are in place, CMD shifts focus to the spiritual needs of the deaf. Training teachers and leaders, evangelism, Bible meetings, camps and youth centers are all part of the techniques used to reach the deaf with the Gospel. Most of our programs and sessions are conducted by deaf nationals.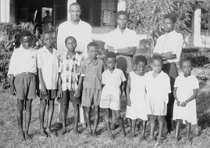 Accra, Ghana – 1957
Andrew Foster (tallest on left) pictured with children of the first school for the deaf in all of West Africa
Communication of every form is used. This includes natural gestures, formal sign language, finger-spelling, writing, reading, speech, lip-reading and hearing aids. This "total communication" approach helps the hearing impaired to rapidly develop a greater language competency and lays the foundation to understanding the abstracts of Biblical truth. Our goal is to be "all things to all men, that we might by all means save some." I Cor 9:19-22
CMD's history
Despite being totally deaf himself, Andrew Foster responded to God's call to reach the deaf in Africa. Finding no mission that would support his call, he set out on his own and founded Christian Mission for the Deaf in 1956. Over the next thirty years, God used CMD to open a total of 31 schools for the deaf starting first in Ghana then Nigeria, Ivory Coast, Togo, Chad, Senegal, Benin, Cameroon, Central African Republic, Zaire (now the Democratic Republic of Congo), Burkina Faso, Burundi and Gabon. About the same number of Sunday Schools and churches were established in those countries as well as Kenya, Sierra Leone, Congo and Guinea. A number of Africans from various countries were trained by CMD to lead the work on a local level. Some of these schools were taken over by their governments or other groups. CMD is looking forward to establishing more schools and churches in other unreached areas as the Lord leads and provides the means and the workers.
After 30 years of service in Africa, Andrew went to be with the Lord through an airplane accident in Rwanda, East Africa on December 3, 1987.
On October 22, 2004, Gallaudet University dedicated an auditorium in Andrew Foster's name, calling him the "Father of Deaf Education in Africa"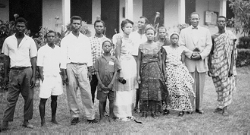 Accra, Ghana – 1957
Andrew Foster (second from right) with Bible students of the first Sunday School. The school opened shortly after the children's school
How you can get involved
CMD is supported by prayer and faith. While some schools for the deaf receive public assistance, the remainder of the schools, as well as all Gospel work, are supported by the Lord's people.
There are a number of ways to get involved. In dependence upon God, the Lord has burdened a good number of Christian individuals, assemblies, churches, Sunday Schools and others to share by prayer, love gifts and service. Those with spiritual maturity, personal ability and a willingness to learn make excellent candidates for personal service on the field. Biblical education and training or experience in the field of deafness is also preferred. Special courses, such as language, may be required. Each worker must have a heart for evangelizing lost souls and a desire to build up deaf believers in the Lord.
Here are some specific ways you can be involved with CMD:
Spiritual support: Pray for us (2 Thess 3:1). Our news letter, Deaf Witness, is sent to active supporters, and discusses many concerns in need of prayer.
Financial support: Because CMD is a non-profit organization, all gifts, bequests, memorials, grants and donations to CMD are tax deductible.
Tangible support: Resources like Bibles, literature, films, visual aids and equipment are desperately needed.
Keep us in your thoughts: Include us in your prayers, mission projects, church, Sunday Schools, prayer meetings, etc, and help share the word of what God is doing through CMD.
Jesus said "In as much as ye have done it unto one of the least of these My brethren, ye have done it unto Me" – Matt 25:40. This includes deaf people too!
We welcome your praying, sharing and fellowshipping.