But continue thou in the things which thou hast learned and hast been assured of, knowing of whom thou hast learned them. – 2 Timothy 3:14
As Spring turns to Summer, CMD is welcoming a number of new changes as our Lord continues to shape us and grow us in new directions on a number of fronts, both big and small. We are excited to report how God uses us through your faithfulness and prayerful support to continue being a light in many unreached places and ways.
Nigeria
During the spring, over 700 deaf people from 36 states in Nigeria convened in Illorin to attend the 40th annual Easter camp. Emmanuel Ilabor, the general director of the center in Nigeria, reports that the work of the Spirit was evident, and we praise the Lord for 34 baptisms during this four-day event!
This summer, the Ibadan Center for the Deaf celebrates their 50th anniversary! Pray with us that this event will be highly attended as we celebrate God's faithfulness for the deaf in the country of Nigeria.
God's faithfulness has been evident in so many ways and places throughout the deaf churches in Nigeria. There are approximately 28 deaf churches in the country today as a result of the seeds God planted through CMD 50 years ago. One church in Ikire was recently blessed beyond measure with the gift of a very large, beautiful new church building, donated by a retired army officer. This donation has some history: at a nearby state-owned school, Muslim parents of deaf children built a mosque and then tried to pressure the Christian teachers and students to abandon their faith, and mocked them for not having a house of worship. This gift of a larger and nicer church could fuel Muslim animosity, so pray with us that this will be used for the glory of God instead. Pray also for protection and peace between the Christians and Muslims.
On a sad note, the center in Ibadan was recently struck with lightning, which caused extensive damage to the backup generator, and various computers and electronic equipment. It turns out that the building was not constructed with proper grounding. Installing the grounding and replacing the damaged equipment will be quite expensive. Pray with us that the Lord will quickly replace this necessary equipment.
Chad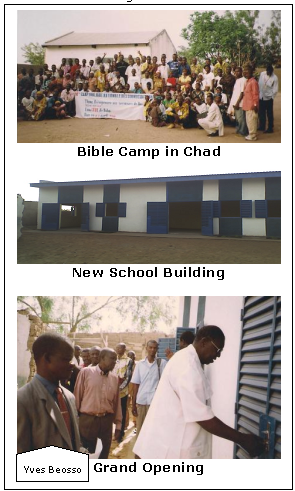 Director Yves Beosso reports that the 2009/2010 school year was a great success! The Lord blessed them with 8 new students for a total of 43 deaf students, and the year concluded with no serious illnesses among the students or staff. They have received several gracious donations including books and shelving for the books. These resources are a wonderful gift and are diligently used by the children to help expand the education they receive at the school in Chad. As always, they are looking for more books to add to their growing library.
One of the deaf students, Aspal Reine, comes from a Catholic home. After hearing the Gospel, she decided to abandon her Catholic upbringing and give her life to Christ. Her parents are not at all happy about her decision, promising her that she will die and go to hell if she doesn't abandon Christianity. They had also threatened to stop paying her tuition if she doesn't stop attending the Christian church at the center. Praise God for His faithfulness! A charity group in the Netherlands has granted a scholarship for ten students, so Aspal is able to continue her education. Please continue praying for young Ms. Reine, that her parents will not only allow her to continue fellowshipping at the center, but that they too will give their lives to Christ.
Construction of the new school building is finally complete! The building was completed in three months and immediately put to use for tailoring classes, carpentry classes and a growing library. The students, staff and parents thank you for your faithfulness in supporting this project from start to finish.
The Lord has also blessed the believers in Chad with a very successful Bible Camp this past April. A total of 197 campers attended a four-day event focusing on The Rewards of the Faithful Believer (1 Cor 3:8-15). Camp goers were encouraged from the Word to continue in faithfulness, following Christ's example and obtaining a heavenly reward.
Please continue praying for our leaders at the center in Chad, as spiritual challenges aren't the only trails our fellow workers face. Director Yves Beosso's wife, Agnes, suffered a stroke 3 years ago, and although she is improving a bit, she is very limited in her ability to walk and cook.
At Home
Here at home, we're seeing our fair share of changes as well. Thank you for your continued prayer regarding Berta's health after her stroke last year. Her mobility has improved to the point to where she can move about the house without a walker, albeit slowly. Her communication is still a challenge, and dealing with abstracts like financial reports is sometimes more than she can handle. At our last board meeting, she announced that the time has come for her to retire, and the board designated her son, Tim, as the interim director until such a time as the Lord appoints a permanent director for CMD. But if you know anything about Berta, you'll know that 'rest' simply is not in her vocabulary. Although her pace has slowed considerably, she still stays busy keeping in contact with the various directors in Africa, and training her son on the ins and outs of running a multi-national mission for bringing the Gospel to the deaf. Lord willing, Tim and his wife will travel to the Congo during the month of September, so stay tuned!
John is recuperating from a benign thyroidectomy, but is otherwise doing well and staying busy.
Indeed, your continued prayers are coveted.
In Him,
Tim Foster